Chicago, November 29, 2017: Africa Global Chamber of Commerce, African Diaspora, African American, Caribbean, Latin America, and the entire World were troubled and shocked by the Brutal Slave Trade of Humans in Libya.
Men are being sold like commodities and auctioned as little as $400. Auctions in many locations across Libya are believed to take place each month. "The problem of slavery and human trafficking in Libya and other nations is not new and existed even during the regime of Muammar Gadafi.
On behalf of Africa Global Chamber of Commerce, we condemn these criminal acts of human trafficking and call for an immediate stop of these atrocities to human life. An international investigation must be launched to correct this injustice. We, the international community shall address the root cause of the problem and hold accountable the perpetrators of these violations of human rights, Libyan Gove rnme nt, African Leade rs, and the International Community including United States who created the current chaos in Libya" says Olivier Kamanzi, President & CEO of Africa Global Chamber of Commerce (AGCC).
Many African, Caribbean, and Latin Community Leaders in the United States have expressed their condemnations in strong terms on the slave trade of Africans in Libya and elsewhere. "Until such time every member of humanity agrees that slavery in all its forms is a totally prohibited and immoral act, we will continue to need our governments to speak out forcefully and continuously against this evil. It is not enough that all perpetrators of slavery will be brought to justice, we must create a world in which no one perpetrates these abominable acts" Dr. Vincent Idemyor, Chicago-based Clinical Pharmacologist and a Visiting Professor at the University of Port Harcourt in Nigeria. "America toppled Muammar Gadafi without a plan for the aftermath and has left the country in the hands of the militia, and in chaos. Migrants fled their homelands to Libya seeking passage to Europe in hopes of better lives and future for their families some escaping death in their countries. We have been hearing about the treatment of these refugees for some time, stories of lives lost in the hands of the militia, lives lost just making the treacherous journey. Nothing moved us to act until the images of humans being sold into slavery in this century and with social media nothing is off the table anymore. We cannot pretend we didn't see or hear without acting. Those images are haunting, that is someone's son, brother, father or mother. We as civilized members of the human race must never allow such atrocities to occur or to even allow it to get to this point. We ask you to act now and to act swiftly in bringing these people back to their countries and justice to those who perpetrated these acts on behalf of the victims" says Soraya Shephard, Founder & President Color Me Africa – South Africa.
"We were all shocked and could not believe such a thing still being done. We condemn such practices and ask the Libyan Government or anyone responsible to be accountable" says Mr. Patrick Ntula, President of Congolese Community of Chicago (DRC). "We condemn this indignant act of slavery of our African brothers with all our energy and we call the African Union and the international community to undertake an inquiry as soon as possible to place the responsibilities. We say NO to slavery" says Oumar Telly Diallo, President of Guinean Community Association of Illinois and Iowa (GCAII). "It is very disheartening to believe that slavery, I mean auctioning of human beings still exist. We need to wake up as African citizens and believe in ourselves that success is who we are and not where others claim it is. Also, African leaders need to come together to stop this act in our motherland because success and respecting of human right lies in our hands" Davidson Kwame Zigah, President of Ghanaian Professionals of North America and founder of Kale Realty - Ghana.
"An independent UN Investigation must be conducted immediately with Africans in diaspora independently represented. A permanent multinational force must be deployed in Libya to protect rescued immigrants while deportation will be monitored by the UN" says Franklyn Eke, Engineer & Project manager at Milhouse Engineering and Construction - Nigeria. The sale of people by these with no respect of basic human right should not be tolerated in the 21st century. This practice has no place today or tomorrow in any shape forms. No one should profit by conducting such horrific tragedy. This kind of activities undermines the rule of law and contributes to other forms of international organized crimes. Individuals or groups responsible for these
Dr. Chris Munwam, Construction Engineers - Democratic Republic of Congo
"I add my voice to the condemnation of these atrocities perpetrated against humanity and pledge my support in the effort to defeat this evil." It is of great importance to form an Alliance with the international community to End Slavery and Trafficking to advocate solutions to prevent and end all forms of human trafficking and slavery around the world. Says, Dr. Melida A. Harris Barrow, Author of "Unveiling The Illusion: Know who you are" and Universal Peace Ambassador for Panama.
United Nations estimates the number of migrants in Libya at 700,000. Many of them were brought to Libya to fight on the side of the late Muammar Gadafi. Other African migrants are crossing the Mediterranean to Europe searching for better life. An influx of migrants from Sub-Saharan Africa transit in Libya before traveling to Europe and they are helped by Smugglers.
Chicago, Illinois, November 3, 2017 — Africa Global Chamber of Commerce (AGCC) announces a partnership with the Africa Trade and Investment Global Summit (ATIGS) and furthers the event's mission to promote and facilitate international trade and foreign direct investment in Africa. The 2018 ATIGS edition will gather 2000-plus key economic players from more than 70 countries including government delegations, high-profile African leaders, project developers and international investors on June 24, 25 and 26, 2018 in Washington, DC.
Designed to promote and facilitate international trade between Americas, Asia, Europe, United Arab Emirates and Africa, the 3-days event will provide a unique platform to gain strategic knowledge about local investment opportunities and business networking. Over 150 speakers, 160 exhibitors and 350-plus global investors and deal making will top the agenda at ATIGS 2018, covering 16 economic sectors particularly manufacturing, agribusiness, power, construction, transportation, IT, tourism, telecoms, and natural resources sectors. High-potential projects in Africa will be presented to international investors. Featured agenda items will include projects showcase, deal marketplace, exhibition, country presentations, and among others.
ATIGS consists of 13 specific events including bilateral events, US-Africa Manufacturing Forum, UAE-Africa Business Forum, Africa-China Economic Forum, EU-Africa International Business Congress, and more under the umbrella of World Business Week on Africa, strategically positioned between the 27th World Gas Conference with over 12,000 delegates, and the 2018. Select USA Investment Summit - with over 1,200 global business investors, given ATIGS delegates more opportunity in June 2018.
Interested companies are invited to register to attend or exhibit, and receive regular information via the following website www.atigs2018.com or contact atigs@gaadvancement.com
About Africa Global Chamber of Commerce - AGCC
Africa Global Chamber of Commerce (AGCC) is a Chicago-based not-for-profit corporation with a mission to promote trade, investment, educational exposures, and cultural exchanges globally for Africa's economic interest and its partners starting from the United States of America. Locally, AGCC strives to serve businesses and professionals seeking business opportunities, while also, facilitating mutual commerce between US and Africa.
About ATIGS
Prominent African and international business executives and investors to explore business opportunities at the Africa Trade and Investment Global Summit (ATIGS); a prestigious biennial conference and exhibition to be held on June 24-26, 2018 in Washington, DC, USA under the theme "Driving Trade, Unleashing Investment and Enhancing Economic Development" aligned with two of the United Nations Sustainable Development Goals (SDG 17 & SDG 8), and designed to contribute to AGOA, Trade Africa, World Trade Organization's Trade Facilitation Agreement (TFA), SDGs Agenda 2030 and AU Agenda 2063.
AGCC Media Contact]
Alain Tchegnon
Communication and Media Director
info@africangcc.org
ATIGS Media & Business Development Contact:
Melissa Brown, Media Relations, Global Attain Advancement | media@gaadvancement.com
Ceci Guevara, Chief Marketing Officer | +1 (512) 944-2710 | atigs@gaadvancement.com
Olivier Kamanzi : « Nous construisons le pont des affaires entre l'Afrique et les Etats-Unis »
Par Propos Recueillis par Alain Coomlan Tchegnon, Chicago / U.S.A -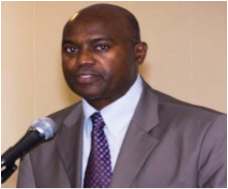 Spécialiste en investissements bancaires de formation, Expert en marché des capitaux et philanthrope, l'américain d'origine rwandaise, Olivier Kamanzi préside la Chambre mondiale du commerce africain. Cette organisation met en place plusieurs dispositifs qui encouragent les investissements américains en Afrique.  
Pouvez-vous nous faire, en quelques mots, l'historique de la Chambre mondiale du commerce africain et ses objectifs ?
L'organisation a été créée en avril 2014 avec la mission de promouvoir le commerce, les investissements, les échanges culturels, et l'éducation entre l'Afrique et le monde entier en commençant par les Etats-Unis d'Amérique. Nos objectifs sont entre autres, tisser les relations d'affaires entre le peuple noir américain et la diaspora africaine vivant aux Etats-Unis, inciter les deux différentes parties à investir en Afrique, promouvoir les opportunités d' affaires et d'échanges commerciaux entre l'Afrique et les Etats Unis. La Chambre aide également à la création des programmes entrepreneuriat au profit des femmes et des jeunes dans le but de créer plus d'emplois, et participe à la mise en place d'une manière effective de l'Accord AGOA qui vise à la booster les échanges commerciaux entre l'Afrique et les Etats-Unis. Par ailleurs, nous favorisons la collaboration ou le partenariat entre les institutions publiques et privées des deux parties, avec l'organisation des colloques ou conférences sur plusieurs thématiques relatives au développement économique, politique et culturel.
Quelles sont vos impressions au terme des activités entrant dans le cadre de la Conférence internationale sur l'investissement de la Diaspora Africaine que votre Institution a organisée en collaboration avec la Fondation PUSH du Révérend Jesse Jackson?
Nous accordons une importance particulière à notre collaboration avec les institutions comme l'Organisation PUSH et son Fondateur Rev. Jesse L. Jackson, Sr. Cela fait trois ans et chaque année notre Chambre en partenariat avec PUSH, nous organisons conjointement 2 programmes annuels. Le premier programme se tient à New York au mois de Février. Il s'agit d'un Sommet International sur l'investissement en Afrique où plusieurs pays Africains sont invités pour rencontrer les investisseurs américains. Le deuxième programme c'est le Forum international sur l'investissement de la diaspora africaine dans le Monde et en Afrique qui se tient au mois de Juin ou Juillet de chaque année. C'est le forum qui vient de se terminer à Chicago aux Etats-Unis avec la participation de plusieurs délégations africaines. Mes impressions sont bonnes d'autant plus que nous avons accueilli pour la toute première fois les plus grands pays d'Afrique en matière économique notamment le Nigeria, l'Afrique du Sud, et l'Egypte. D'autres pays étaient aussi présents comme le Ghana et le Rwanda. Comme vous l'aviez vous-même remarqué, nous avions des investisseurs venant de plusieurs pays: Américains et Chinois qui se sont retrouvés  dans la même salle. Plusieurs accords de collaboration ont été discutés et je crois que même certains accords ont été signes. Par example notre Chambre a signé un Protocole d'Entente avec l'Agence sud-africaine du développment des Jeunes. Cet accord vise à connecter les jeunes entrepreneurs sud-africains avec les entrepreneurs et investisseurs américains et à leur permettre d'avoir accès aux produits africains et aux marchés américains. Grâce à cette conférence nous avons pu jeter les bases de l'organisation d'une Conférence Internationale des jeunes Entrepreneurs Africains de Chicago qui se tiendra l'année prochaine dans l'Etat de l'Illinois.
Quelles sont, selon vous, les opportunités commerciales dont regorge notre continent africain, et comment votre Institution peut-elle accompagner les opérateurs économiques américains dans leur prospection en Afrique ?
Les opportunités sur le continent africain sont nombreuses. Je pense que la première opportunité est que l'Afrique est le premier continent à avoir la majorité de la population qui est jeune, moins de 35ans. C'est une force de main d'œuvre incontournable pour toute société ou investisseur qui veut s'implanter sur le marché africain. Deuxième opportunité,  c'est dans le domaine Agricole ; l'Afrique a la plus large terre arable dans le monde. Je crois que l'investissement dans ce domaine est une opportunité incontournable dans les années à venir. Le secteur d'Energie et du gaz est aussi une autre opportunité quand on sait que plus de 600 millions de foyers n'ont pas accès a l'électricité. Selon, le programme d'électrification de l'agence Americaine de d'aide au developement (USAID), il y a un besoin de $300 milliards de financement dans ce secteur d'électricité. Le secteur financier est aussi important et a un grand rendement sur les investissements. Le taux de la population qui a accès par exemple à compte bancaire ou compte épargne est très faible. Les secteurs des assurances, des pensions, et de paiement sont également prometteurs en Afrique.  Sans oublier les secteurs des technologies, des médias, des télécommunications.  Par exemple, les installations de fibres optiques, de création des bases de données internet et du paiement bancaire par le téléphone mobile constituent des opportunités pour des investissements importants.  Nous voulons continuer à construire le pont des affaires entre les USA et le continent africain.
Quel est votre appel à l'endroit de ceux qui ne connaissaient pas la Chambre mondiale du commerce africain ?
Je vous remercie de m'avoir permis d'expliquer à vos lecteurs ce que fait notre organisation. Je lance un appel aux Africains professionnels comme entrepreneurs de la diaspora à comprendre que l'Afrique a besoin de nous tous pour son vrai et véritable développement. Je leur demande de surtout vulgariser la bonne image de l'Afrique, à présenter l'Afrique comme étant l'actuelle destination des opportunités commerciales, partout où ils sont. Je demande aussi aux Entrepreneurs africains de nous rejoindre parce que nous allons leur ouvrir plus de marchés dans d'autres pays d'Afrique, aux Etats Unis, en Chine, en Inde, en Europe, au Bresil, et ailleurs. Vous pouvez nous contacter en nous envoyant un message à cette adresse : info@africangcc.org